Mating: 18.7.2017
Date of born: 15.9.2017
7 males + 3 females
psi: Xabar, Xalbador, Xanadu, Xero, Xippo, Xi-Xao, X-man, X-treme
feny: Xantippa, Xcellence, Xena
these males are still avalaible

Odeta is mother of our S2 litter , she is a family dog of our friend Iva Kremlová, who trains with her a little, but she is not breeder so she asked us about using our Kennel name and choise right male for her next litter.
We decided for Cholti Deabei, IPO2, OB1 (son our Juki). they are very nice together. Cholti is absolutly balanced male, self-confident, very friendly to people and no conflict with other dogs, strong prey drive, great nose, very good protection. Cholti is strong in head and body, but still compact and well agulated. Odeta is temperament female with high drive and speed, extrem retriever, with good nose, in body medium with excellent jumps.
We expect working litter with work apetite good for IPO, MONDIO/RING, rescue, for police/work, but for gility, obedience also...
Puppies will be by Ivana Kremlová in Liberec, well socialized - in family with children and we will visite them every week and make pics.
---
show line litter -Winter 2017
pE. Rodin van Moned , HD:A, ED:A, BH, SPr.1 x India Deabei, HD:A, ED:A
pedigree here...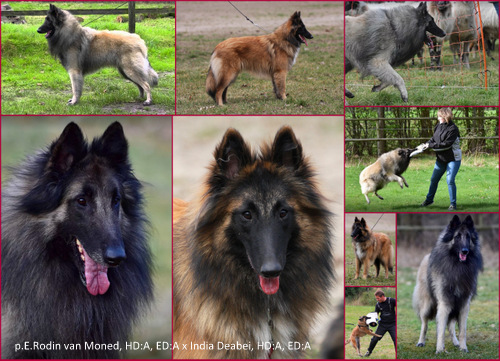 mating: 18.-19.8.2017
date of birth: 21.10.2017
2 males + 1 female
females: Ybonka
Indie "Delphina" is dog Katka Marglová. She is like our Delphina (her grand mother)...with better coat, ears and more open temperament, India is our big heart! India is family dog and her owner is not breeder and because India´s quality - we decided for one litter in our Kennel. And we choised lovely gris male from Holland for her...
Rodin is great male, elegant but enough strong, gris colour and huge coat, lovely neck, son of long-lived Unir v. Sprangerhof. Rodin is absolutly lovely in temperament - he is normal open dog, self confident, friendly, balanced and together with India has not shooting reaction, loves play, retrieving and wather.
We expect puppies very promising for shows, sport and next breeding - only for right people.
Puppies will be by us.
---
working litter