Farka is Finka´s, IPO3 sister a siter Farrel, IPO3, she is medium size, family dog and first working dog of onwer Anna Pavlů, she lives in Germany.
Farka´s priority is her speed, drive and very nice friendly open temperament. Heres is out RING malinoises, he is strong male, but ready to work and open and friendly. Litter will born by Farka´s owner in Czech, after 4 weeks we will welcome puppy by us :)
Puppies from this combi will be very promising for IPO, MONDIO/RING, rescue training, but also next dog sport agility, obedience...
Reservation is possible...
---
X - working litter - autumn 2017
Cholti Deabei, IPO2 x Odeta z Labského přívozu, ZM
pedigree here...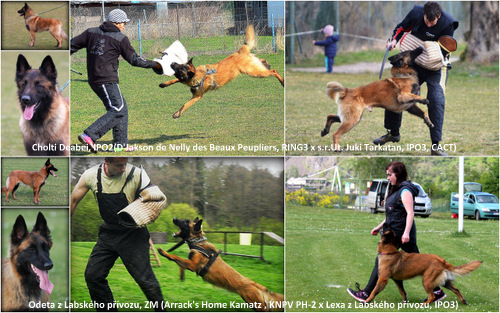 Mating: 18.7.2017
Date of born: 15.9.2017
8 males + 3 females


Odeta is mother of our S2 litter , she is a family dog of our friend Iva Kremlová, who trains with her a little, but she is not breeder so she asked us about using our Kennel name and choise right male for her next litter.
We decided for Cholti Deabei, IPO2, OB1 (son our Juki). they are very nice together. Cholti is absolutly balanced male, self-confident, very friendly to people and no conflict with other dogs, strong prey drive, great nose, very good protection. Cholti is strong in head and body, but still compact and well agulated. Odeta is temperament female with high drive and speed, extrem retriever, with good nose, in body medium with excellent jumps.
We expect working litter with work apetite good for IPO, MONDIO/RING, rescue, for police/work, but for gility, obedience also...
Puppies will be by Ivana Kremlová in Liberec, well socialized - in family with children and we will visite them every week and make pics.
Reservation is possible.
---