mating: 30.11 + 1.12.2018
date of birth: 27.1.2019
1 male +4 females
male: Emex
female: Echo, Elisa, Ennie, Eyra
last female (Elisa) for reservation...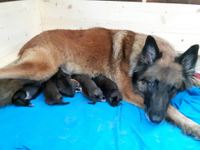 ...we expect drive, self-confidence, pleaser for work and healhy

Vano Deabei is son of our Ulu, young strong male, right self-confidence, absolutly balanced and clear in head, very strong defence, calm and strict tracking with top style, pleaser for owner and loves his family.He has high score of character test CMC 5555555 and he is in training for IGP competition, video from training here....
Farka like family dog passed with her owner Anna Pavlý IPO3. Her priority is drive and pleaser to work, she has high speed and she is very friendly to all. She is sister Finka Deabei, IPO3 and Farrela Deabei, IPO3, who compete 4th season in high level IPO3, and Frisko Deabei - dog police Slovakia.
Their combination is conect line of Nimba des Loups du Makenzie, RING3 (5-4), and World Winner Klemm vom Roten Falken (5-5) and famouse stud male Stoned van de Duvetorre, IPO3 (5-4).

For serious owners for training, active quality life (IGP, ring sports, rescue training, agility and for real work by police)